I was out driving around Marrakech this morning, running some errands, when I began to see posters for the Marrakech Marathon posted on some light poles along one of the main roads which is part of the full marathon route.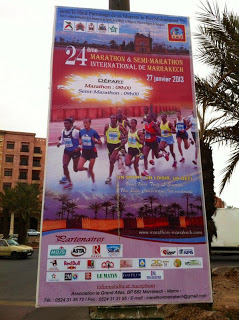 Here is the poster
Upon inspection, I do not see anything important that I left out of my last post. The race is on January 27, 2013, with the full marathon starting at 8am and the half marathon starting at 9am. I did learn that this is the twenty fourth (24th) annual running of the race. Also, after using my amazing French translation skills, (Google translate) I discovered that the phrase under the runners reads, "A sport, a hobby, a challenge, Come and experience all the emotion, A great international competition."
Well, I guess that as the city begins to gear up for the race, all of us runners will begin our tappers, after this weekend, preparing for a wonderful race next weekend.