Yesterday I was out for my last long run before race day. The Marrakech marathon is this coming weekend. It was a simple, nice and slow 14 mile run and as I set out I had no real route in mind. I normally like to map out my route and know where I am going to run so this is unlike me. As it turned out, this lack of planning turned out to be a good thing.
About three or four miles into my run I caught up to a a guy who is from Europe and we ended up running for about six miles together. While running, I found out that this new European friend of mine
was on vacation in Marrakech for a week. He said that he came to Morocco for a short vacation and to be able to do a weeks worth of longer runs in a warmer climate as he trains for a 100 kilometer ultra marathon in Europe. Being an ultra marathoner myself made our conversation even more fun.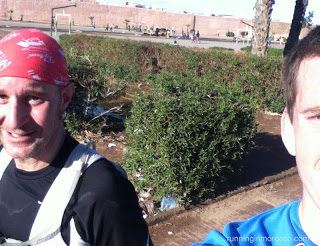 Check out my awesome photo skills
Since I have started running I have learned that it is very easy to make friends while out on a run, whether that be a long training run or a race. Some of my favorite runs of all times are the ones where I started off by myself and ended up running for a long time with someone I met on the run. In a half marathon I ran this past December I ran for the last 6 miles with a guy from California who flew across the USA only to run that race. Over a year ago in my first ultra marathon, a 50k, I ended up running for about 4 hours with a husband and wife couple from Alabama. My point is this, i
f you are new to running, one of the things you will learn quickly is that it is easy to become friends with someone out on a run. And, if you are in Morocco who knows where some of those people will be from.
Running by myself is fun, but running with someone even if you have just met the person can often make a run very enjoyable. Morocco has given me the opportunity to meet many people while running and something I have discovered is that for the most part the people that share this hobby/addiction/healthy lifestyle are some of the nicest people out there.
If you are living in a colder climate like the friend I met yesterday, I do recommend a getaway to Marrakech! Not only will you enjoy the warmer weather to run in, you can explore the exotic culture of Marrakech!