This final installment of Running in Morocco's Best Places to Run Rabat edition is going to be a little different than the last two. Instead of writing about just one of the many great places to run in Rabat, I am going to write briefly about two places. Before we get into it, if you have not read Part 1 about the Hilton Forest or Part 2 about the route that goes along the river and ocean front in Rabat, I hope that you will go back and read them as well.
Since I have two places to cover I am not going to waste time with a long introduction but just dive into it. First up, a hill with a rewarding view at the top.
Name:
The Chellah Hill (there really is not a name for it.)
Location:
The Administrative Quarter,starting near the Marjane (giant grocery store) and ending at the historic Chellah ruins.
Points of Interest:
The route is approximately 1.2 miles (1.9 km) long
It climbs about 132 ft (40m)
Ends at the historic Chellah, where there are ruins from a Roman settlement, and an awesome view of the valley and the river.
Description:
I mentioned in Part 2 that there are very few big hills in Rabat. I think that this might be the biggest one you will find that is easily accessible to run within the city. I ran this hill during a couple of my 20 mile long runs on Saturdays mornings and because I was out early enough I did not have to deal with the car exhaust. I would have loved to use this hill for my hill workouts but I lived to far away. It really is perfect for these kinds of work outs because although it is really not that high, it is still a formidable hill.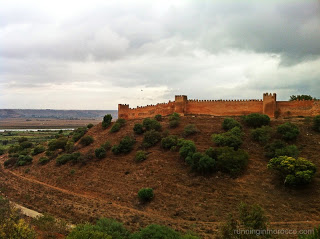 There is a good size sidewalk all the way up and it is well maintained. There are a lot of embassies in this area and the Palace is near by so the whole area is well kept up and safe. Sadly, there is not anywhere nearby to buy water except for the grocery store at the base of the hill. So, make sure you keep that in mind.
Directions:
It is nice to have so many inexpensive taxis in Morocco, because it makes getting to places very easy. To get to the base of the hill you simply need to ask a taxi to take you the the "Marjane" close to Quarter Hassan. From there run up the hill, if you come to a bridge then you have gone the wrong way. If you are driving this grocery store is near downtown on the river and there is plenty of parking.
Next, is another park. This park is not technically in Rabat (I think that the border between the two cities runs through the park), but lets just say that it is in the greater Rabat area.
Name:
Forest in Temara
Location:
The main entrance and parking area is in Temara
Points of Interest:
Large park away from traffic and the hussle of the city
Lots of trails
There are more than five miles of different trails
Description:
OK, although this park may not be the easiest for a visitor to the city to find or all that close to the center of town, I am including it because of its size. In the metro areas of many large cities it would be hard to find the number of miles of trails that are at this park. On the far south-west side of the park in Temara, is the main entrance with a parking lot as well. However, around the perimeter of the park is a low wall and in several places there are gates that are open and can be used as alternate entries.
If you look at the forest on a map you will notice how large it is. Just keep in mind that the park is only a small section of that forest. If you start getting close to an area not part of the park you will probably notice that the trails aren't nearly as well used and my advice would be to turn around and find another path. If you go on the weekends or in the afternoons there are normally enough people there that you should be able to see where everyone else is running.
This park was is one of my favorite places to run when I am in Rabat. I love trails that are remote and out in the middle of nowhere or in the mountains. Being a city dweller this park is the next best thing when I can't just get away. It's close enough to Rabat as not to take forever to get there but when you're there it is remote enough to lose yourself to the trails and your own thoughts. Just be careful that while you're lost in your thoughts not to let the occasional sheep, goat, or cow hearder with their livestock scare you as you turn a bend in the trail (which can also happen in the middle of any city in Morocco).
Also, unlike the Hilton Forest there is no where inside this park to get water, so you're on your own.
Directions:
This one is a little tricky. My best suggestion to get here would be to ask a taxi to take you to the "Aswak Al Salam in Hay Riad." That is another grocery store and it is less than half a mile from one of the entrances through the wall.
Once you are at the grocery store you will want to cross over the large road at the round-about (this is part of the auto route that goes around the city). Once you cross the auto route you will have villas on you left hand and across the road will be what looks like a forest, thats not it. Continue down this road (Avenue Mehdi Ben Barka) until you reach the park on your left, it is about 3/10 of a mile after that huge intersection.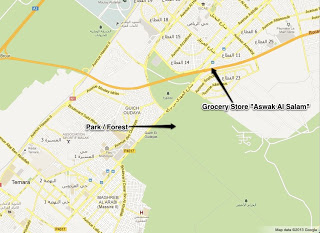 Well, that finishes it up for our series about the best places to run in Rabat. I only covered four of what I considered to be the best, most accessible and scenic running routes in Rabat. There are still many other great places to run. In all the time I spent in Rabat, I was never at a loss for a good place to run. Sometimes it is even good to just run through the different parts of town to observe and enjoy the wonderful culture that makes up Morocco.
I love running in Rabat and I hope that this series will help you the next time you are out for a run in this great city. As always, if you know of any other places to run in Rabat or have any comments or questions about the places I have mentioned, please write in the comment section below.
Here are links to the other two articles in the
Best Places to Run: Rabat
series:
The Best Places to Run: Rabat Part 1 - The Forest Hilton
The Best Places to Run: Rabat Part 2 - The River and Ocean Front Route