Welcome back to Running in Morocco's Best Places to Run Rabat edition. This is Part 2 in a three part series of some of the most interesting, scenic, easy to get to, and runner friendly places in Rabat to visit on your next run in the city. Make sure if you haven't read Part 1 to go back and check it out.
In my first post in the series, we looked at a forest/park with trail and trees. Today, I want to show you somewhere located a little more in the urban jungle.
Next up is a path that runs along the outside of the old city, the river, and the ocean in Rabat.
Name:
The River Bouregreg / Atlantic Ocean Path
Location:
By the Kasbah Udayas on the river side of Rabat's old souq and stretching down
Rabat's coast
Points of Interest:
Awesome views and never a dull part to the run
Only a short distance from Rabat's old market
Easy to get to by taxi, foot, bike, bus
Traffic free running path / sidewalk
Route can be as short as you like or as long +12 miles
There is parking if you have a car
Description:
This run is a mix of a recreational running path and sidewalks. If you want a truly scenic run this is possibly one of the best in all of Rabat. Starting on the river Bouregreg's boardwalk you will pass by several well known landmarks and sights.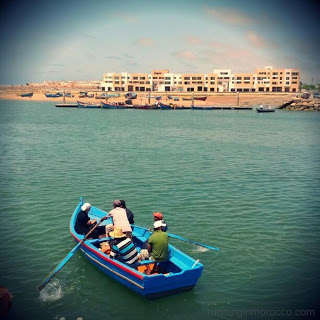 Rabat's famous blue boats on the river
First, as you run along the river toward the ocean, you will see on your left the old city situated inside its fortified walls. Straight ahead you will see the Kasbah Udayas (an old fort/castle) situated on the mouth of the river. Once you reach the Kasbah you will run around a recently constructed tunnel and then onto a sidewalk that leads up a good sized hill to the Kasbah entrance.
Side note: if you are in the midst of training for a race and you are in Rabat on a day that calls for a hill work out, this hill is one of only a few you will find in the city. The best way to do this is to start on the backside of this hill (by the beach) and run up toward the Kasbah facing the river. It's not long but it is steep near the top.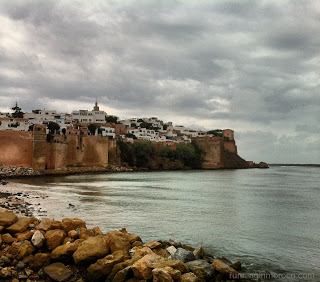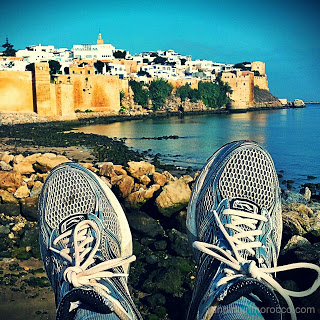 As you crest the hill you will notice two more sights. First, ahead will be Rabat's only beach area and on your left will be a huge cemetery. If your up for it you can take a quick detour and head out on the pier(you should be able to see it as you are coming down the hill).
As you follow the path you will pass Rabat's lighthouse, this is the last of the landmarks. From this point forward you can run along the ocean road (there's a sidewalk) for really as long as you would like. There is a conference center that is about 6 miles from the riverfront and a convenient place to turn around.
As far as places to get water, there are several restaurants on the river front and on the beach, near the pier. If you choose to go the 6 miles out, there are cafes where you can buy water about 1/2 a mile before the conference center.
Note of caution
:
I would not recommend using this route close to dark. Why? One main reason, it's close to the ocean! A large part of this area of Rabat's ocean front is along cliffs, they aren't crazy high but to me a cliff is a cliff. There are some places where the path comes very close to the edge. Therefore, I urge extreme caution at all times and I would recommend not using the path any time when visibility is reduced (dusk, night, rain, fog) and there aren't people around to help.
Directions:
The directions to get to this one is much easier than to the Hilton Forest. Again, from anywhere in Rabat get a blue taxi and ask to go either to the "Kasbah Udayas" or the "River Bouregreg". If you are staying close to the old market you can easily walk through the market exiting near the river.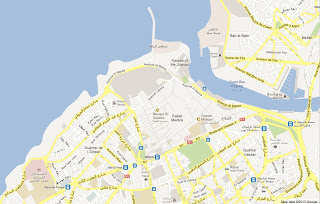 Map of the Rabat's river and ocean front
Well, that is it for part 2 of the Best Places to Run in Rabat. Make sure you go back and read Part 1 if you haven't yet and look out for part three coming soon. I hope you get the chance to run this scenic part of Rabat. As always, please exercise (haha) caution whenever you are running and especially in an unfamiliar place. As much as we all love running it would not be good to remember Morocco as the place where you got injured on vacation.
Again, if you have any questions or suggestions please leave your comment below. Then get out and go for a run.