Alright, the day is almost here. We are less than two days out from 24th annual running of the Marrakech Marathon and half marathon in Morocco. I will not admit that I am starting to get those pre-race jitters, nope I won't admit it.
Today was the first of two days that the marathon village was open, it was in the center of town near the main post office. This is what in America is called the race expo or packet pick-up. So, after lunch I decided I would try to beat the crowds and head on down to get my race number. I choose to do my race registration online through the link that was provided on the race website (marathon-marrakech.com). I had heard that there was a possibility of doing registration on race weekend at the marathon village but no one could tell me for certain.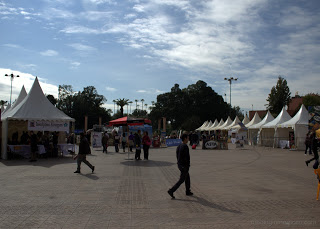 Marrakech Marathon Village
When, we arrived at the village there where quite a few tents set up in the plaza. There were the sponsors, traditional Moroccan crafts, other races advertising their events, a stage was set up for some live entertainment in the evening, and two other important tents. The first of those two tents was the main race organizer's tent. Here there was a place for foreigners and a place for Moroccans to register for the race. So it turns out that what I had heard was correct, you can sign up on race weekend. Also, at this tent you can buy several official race t-shirts, key chains, and pins.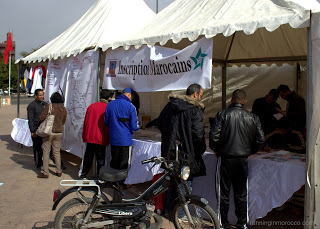 Moroccan Registration Table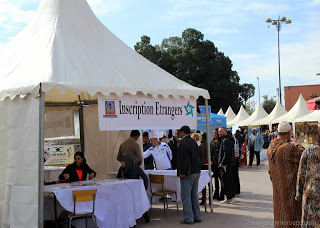 Foreigner Registration Table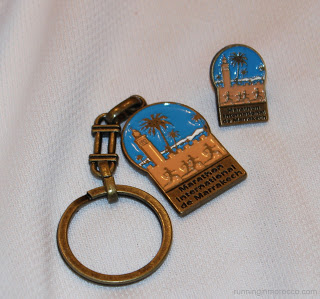 Marrakech Marathon Key Chain and Pin
The second important tent was a tent that a few days ago I got an email telling me about. The email said that because I registered online I would not find my race number at the official tent but instead at the "Escapades"/sport-up.fr tent. Escapades.fr is some sort of French travel company and sport-up.fr is the website that the Marrakech Marathon uses for online registrations. At the tent I showed my passport and was given my race bib, with timing chip attached, and a technical t-shirt. The t-shirt was a nice surprise. On the registration form they asked for shirt size but never said that one was included. I do not know if a shirt was included with race weekend sign ups since they were selling shirts at that tent.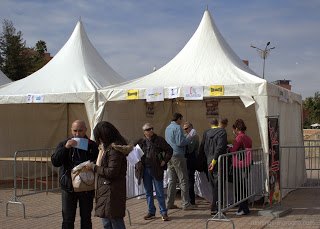 The tent where I got my race packet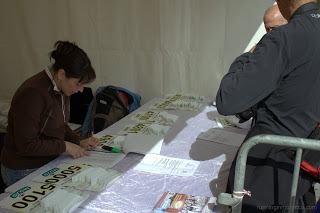 When all was said and done I was very happy at how organized the marathon village was. I got what I needed, received a shirt, and I found out about some races to look into, a 10k in March and a four part stage race in the mountains in May. Well, all that is left is to "toe the line" in a couple of days. After we left the marathon village we drove a large part of the marathon course and confirmed that this really will be a flat course. I did my last training run today and tomorrow is pasta and rest. I can not wait for race day.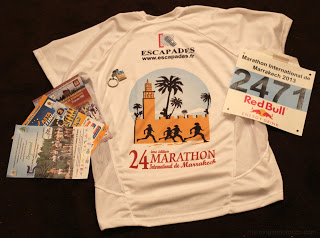 Race Packet (the key chain I paid for)
Do not forget to check back next week for the full race report of the Marrakech Marathon. Also, if you will be running this year please leave a comment below and good luck on race day.