It has been a long time since I spent any quality time riding my road bike. A few years ago, before I came to Morocco, I was training for my first ultra marathon. I quickly realized that if I did not start doing some cross training I was going to be in trouble so I started cycling. I really began to enjoy cycling both solo and in group rides. So, almost immediately after arriving in Morocco I went to a bike market, bought a
used
bike (notice the emphasis on used), fixed it up and then realized finding somewhere to ride away from lots of traffic was very difficult. Due to this fact the bike was set aside.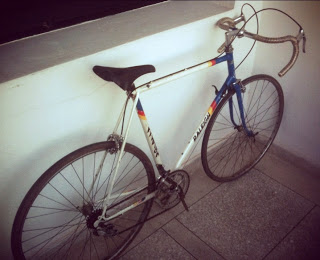 My old steel frame road bike I bought for $35
Well, since I recently discovered the
I decided that I had no excuse not to get back on my bike (that and an old knee injury creeping up on me). So I cleaned up the bike, got a new inner tube, put my kit on and went for a ride.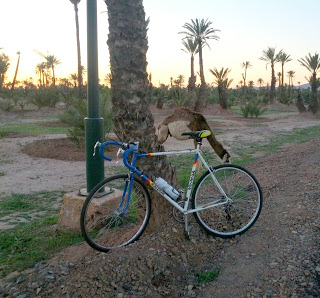 This was going to be an awesome picture but the camel would not look up
As I mentioned in a previous post the Palmeraie really is a great place. I love to run there and so do lots of others, and now I can say it is an excellent place to go for a medium length ride. It is not pancake flat but since it is in Marrakech there is by no means any great elevation change and there is very little traffic. Probably the best part of riding out there was having to dodge all of the sheep and goats hanging out either in the road or close to the sides. The first flock I came up to I almost hit one of the sheep because I was ridding into the sun looking for cars and was not expecting sheep.
Video I took while riding of camels and goats
I can not say how great if felt to get back on the bike and after that first day I went back out there the next because I had such a good time. It was a great feeling getting back out there even if there is a noise coming from my old bike that kind of terrifies me. If you have ever ridden in Morocco or know of any good races or rides here let me know below in the comments and then get out there and go for a ride.