Things in Morocco are often done differently. This is not a bad thing it is just different. Like in the U.S. other than pizza or burgers we really do not eat food with our hands and never from a communal dish in the middle of the table. However, because of this we do not have Tajine or Couscous.
So, I cannot say that I was surprised when I looked out the window of our apartment and saw that our neighbors, who were moving, didn't have a U-Haul but were taking a different approach. They were using the tempting physics approach with a van.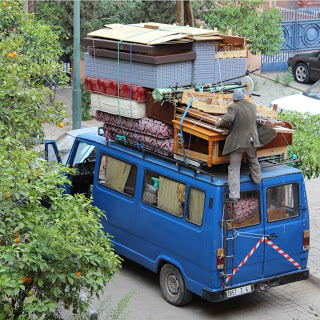 The moving van
It is always interesting driving down the road and seeing trucks piled so high occasionally tall trucks will even have cows, sheep, or goats on top.